---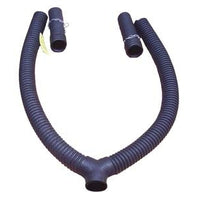 With 2″- 6″ standard sizing, garage exhaust hoses are ideal for overhead, underground, or on the floor installation.
Designed to offer outstanding external abrasion resistance, these rubber exhaust hoses work in a temperature range from -70 to 2000 F.
Our range of automotive shop exhaust hose is crushproof and crack resistant.
They are designed in such a way to allow easy handling and movement across the targeted location.
Their fabric and wire designs are both lightweight and flexible.
Due to the simplicity in construction, Crushproof Tubing garage exhaust hoses require almost no or minimal maintenance.
They do not require permanent and binding installation in workplaces as they are easy to install and uninstall.
They assure years of performance.
Our

 

fabric and wire exhaust hoses

 

are manufactured to handle the bending and coiling requirements for overhead systems.
11ˊ hoses can be connected easily. A single garage exhaust hose can be replaced, and for that, you don't need to replace the entire garage exhaust hose system.
Applications of Rubber Exhaust Hoses
Crushproof Tubing's high-quality garage exhaust hoses transfer hazardous vehicle exhaust emissions from service areas. By investing in such a cost-effective and versatile exhaust system you can create a cleaner and healthier work environment and prevent significant long-term health risks and respiratory problems associated with continuous carbon monoxide exposure. Our exhaust hoses are chosen by the facilities all over the world, including:
Public works garages
Mass transit servicing areas
Vocational schools
Truck and heavy equipment repair
Military repair services
Airport servicing areas
Auto dealers
Fleet maintenance garages
Fire department or emergency medical services (EMS)