---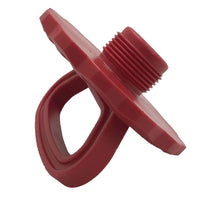 Prevents spillage of hot oil from the oil filter cap on

 

Dodge RAM 6.7L Cummins Diesel Heavy-Duty truck, due to the placement of the oil filter

U-handle 

makes removal and installation easier when reaching from locations where your vision is obscured

Ridged side allows for removal of tool from cap with locking pliers
When changing the oil, reach above the oil filter and screw the plug into the oil filter for a secure seal, and then remove the oil filter from the tight space without spilling any hot oil
Tool also allows the technician to pre-lube the oil filter before installation instead of running your finger with oil around the rubber seal before re-applying
Proper procedure to ensure the threads won't cross thread:
When reaching up into the engine bay, it is near impossible to have a view of the threads on both the oil filter and plug tool.
We recommend turning counter clockwise until you feel the thread entry point line up.
This is the moment when you feel a small drop in the counter clockwise turn.
Once aligned, begin to turn clockwise at a slow rate to insure proper engagement with the threads.

**Note that this is common practice among many technicians, when threads are not visible.
Application Chart: 
| | | | |
| --- | --- | --- | --- |
| Make | Model | Sub-Model/Engine | Year |
| Dodge | RAM | 6.7L Cummins Diesel 2500/3500 H.D. Trucks | 2013-2018 |