---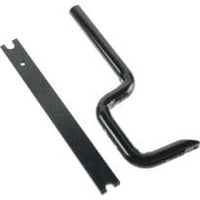 Heavy Duty design
Special bend to clear door panels
Removes hinge pins on GM vehicles with removable hinge pins
Includes Pin Puller to remove loose pins
Remove threaded end cap, slide punch upwards through hinge and screw back end cap. Use a mallet to gently tap punch to draw out the pin
INSTRUCTIONS:
CAUTION:  
ALWAYS FOLLOW SAFETY INSTRUCTIONS ON ALL EQUIPMENT.
•     Secure the door with an automotive adjustable Jack/stand. Recommend two person job.
Step 1:  Use the CTA Pin Puller that is provided in the kit to remove locking pins/washers.
Step 2:  Using the CTA Heavy-Duty Special Bend tool, securely align with top of door pin.
Step 3:  Use a hammer to tap the door pin out of the door jam. Repeat this step until the door pin has fully come loose.
NOTE:  Some vehicles may have multiple door pins. Repeat Steps 1 – 3.
CAUTION:  Door will be hanging freely at this point. Take proper precautions.
Step 4:  Install new pins following steps 1 – 3 in reverse order.
Step 5:  Slowly and safely lower/remove jack from below the door.
Installation complete.