---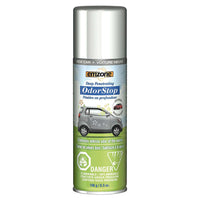 Removes and neutralizes foul smells in vent and A/C systems
Designed to tackle tough problems due to moisture accumulation
Excellent at eliminating odors caused by cigarette smoke, mildew and mold by attacking the problem at the source
Circulates through the entire ventilation system
One time use product (total release)
emzone OdorStop Odor neutralizer is now available in a refreshing new fragrance - New Car. 
It eliminates unwanted odor from the interior of vehicles keeping them smelling fresh and clean.
Formulated with advanced odor neutralizing technology, emzone OdorStop attacks odor at its source and permanently removes it keeping your car smelling fresh and clean longer.