---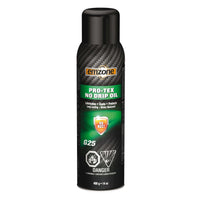 emzone Pro-Tex No Drip Oil is a long lasting, water resistant lubricant and rust inhibitor and coats and protects metals from rust, keeps moving parts and mechanisms well lubricated, penetrates to loosen seized parts, and inhibits rust in vulnerable crevice areas. The emzone Pro-Tex No Drip Oil is an effective corrosion protection for outdoor equipment and is ideal for do-it-yourself vehicle undercoating and protecting battery terminals. Use to protect equipment for winter storage. The emzone Pro-Tex No Drip Oil is also silicone and solvent free. 
DIRECTIONS:
• Shake well before using.
• Hold can in an upright position.
• Spray on to surface from a distance of 20-30 cm (8"-12"). Use extension tube for hard to reach areas.
• Apply liberally for items requiring rust protection. For sticky parts, allow to penetrate area first.